A bed is the most important piece of furniture in a bedroom.  Beds increase the comfort and functionality of a room, and add beauty and ground the room.
But bed can be expensive – hundreds if not thousands for a nice, not particle board, real wood bed.  And if you add in box springs, and multiply that by four beds in a home – it's easy to see why many rooms just have mattresses on the floor.
Build Your Own Bed and Save
Have you considered building your own beds?  My first project was a bed, and I highly recommend beds as a beginner project.  You don't have to have perfect joints (like a tabletop) or deal with bulky plywood (for most storage projects)
And there's a big payoff for a small investment.  Most of our DIY bed frames cost between $100 and $200 to build – INCLUDING the box spring built right in!  That's right – for about the cost of the box spring, you can build the entire bed!
Beginner Friendly Bed Frame Plans
I've built ALOT of beds – loft beds, canopy beds, bunk beds, farmhouse beds – but in this plan, I wanted to create a VERY beginner friendly plan, with still a beautiful end result.
So only requiring two basic power tools (that everyone should own) – a drill and a saw – you can build this beautiful panel bed!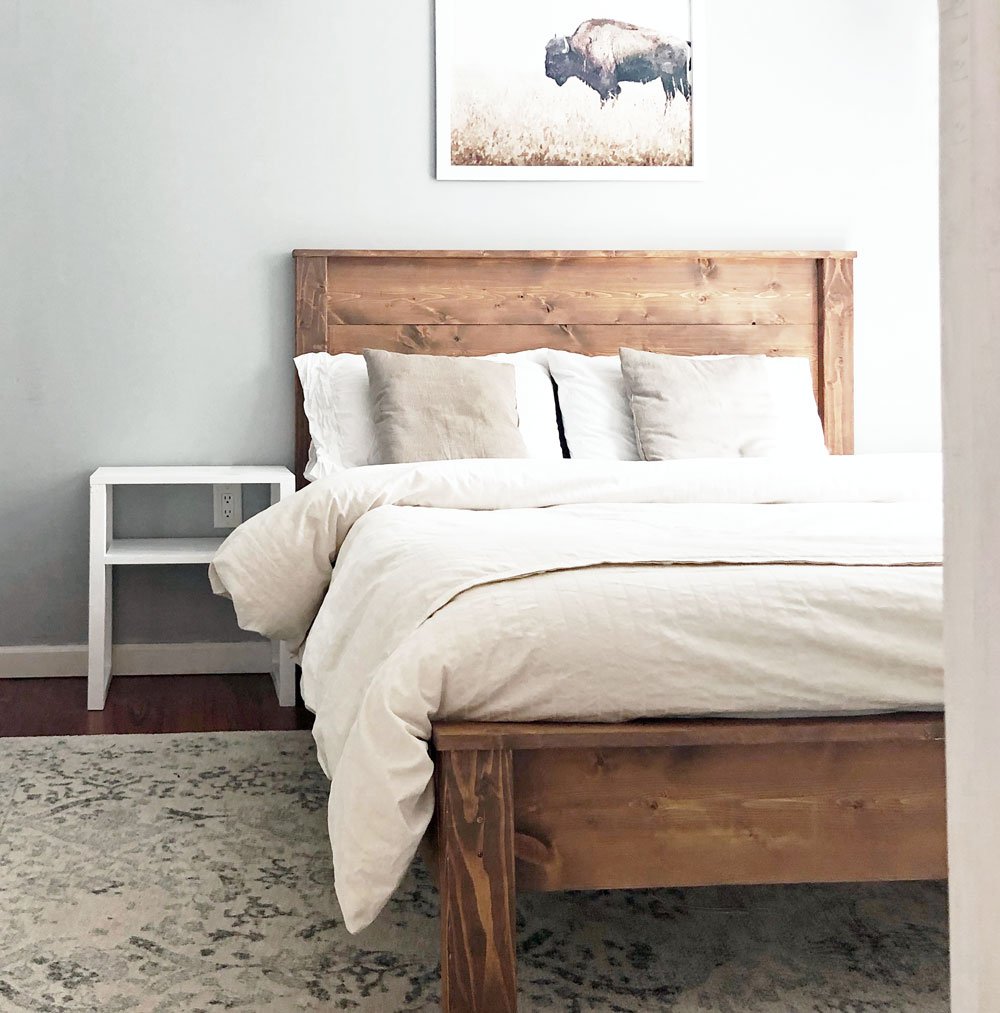 We love the solid wood texture.  We love the sturdiness and proportions.  It's a beautiful bed that transformed this room!
Full Room Tour
This diy panel bed was the star of one of our Airbnb room makeover videos.  You can see the bed build and the entire room makeover in this video.
Most everything in this room is DIY!  We'll be adding all the plans for your use. 
Modern Simple Nightstand Plans
Floating Shelf Closet Plans
Small Scrap Wood Coat Rack Plans
Easiest Closet Desk Plans
Buffalo Art Printable (etsy link) – the Frame is DIY
Simple Panel Bed Frame Plans
You'll find the queen sized plans for the Simple Panel bed below. 
We also have the following size modifications:
When using the size modifications, follow the steps for the queen, but use the shopping list and cut list for the different sizes.