A couple years ago, we built a round dining table for our main family table, and we LOVE it!  It has served us so well, feeling cozy with just our family, but easily adapting to more guests – just pull up a chair.
But the base wasn't quite right for our family.  We have a 1 year old who feeds herself.  Food falls everywhere.  And it's hard to clean under the openings in the legs.  And why on earth would I paint it white???  
So I decided to keep the same tabletop, but change out the base to something simple and easy to clean around that is NOT white. Two 2×6 boards later ….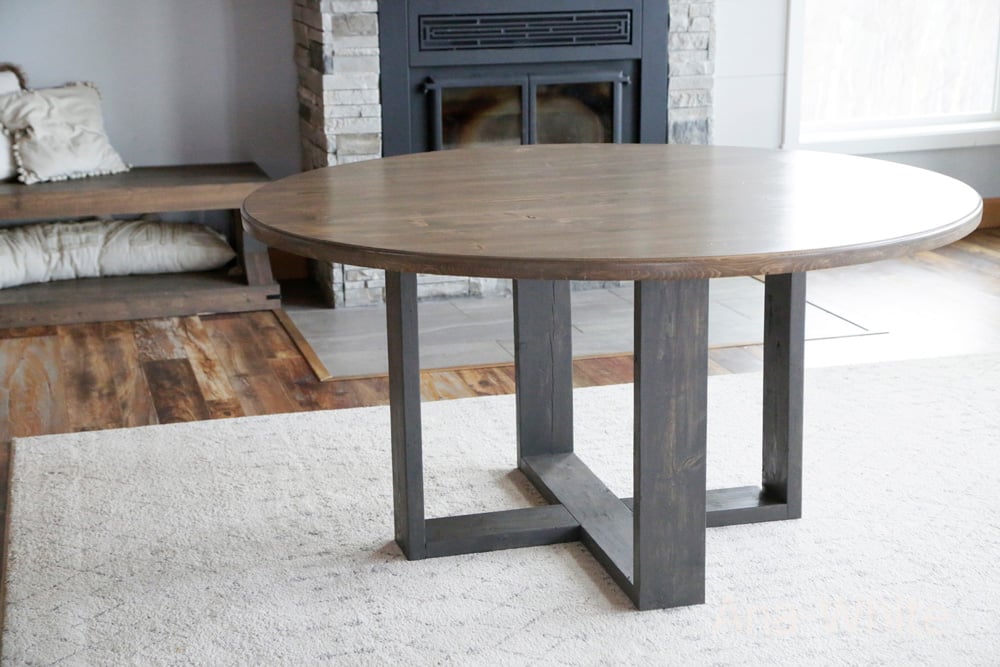 We couldn't be happier with how it turned out and love the simple design that will make our life easier.
Video Tutorial
You can watch this table being built in our video tutorial here:
What About the Tabletop?
We built our own round dining tabletop in this post (with video tutorial) and it has held up well and been nothing but awesome for us.  It wasn't hard, but was definitely time consuming and made a big mess.
So if building a perfect round tabletop seems intimidating (or more mess than you want to sign up for), don't worry!  You can buy an unfinished round tabletop on Etsy for marginally more than materials.  
Pinnable Image
If you have a second to pin, we greatly appreciate pinning and it helps our website out.  Here's an image you can use: