Portable Workbench Features
Sturdy workbench sized to accommodate small to medium sized projects.  Can be paired with a second portable workbench to tackle almost any sized project.
Easily folds down to a compact size
Flips over for storage
Portable – can be easily transported – and it carries all the tools!
Fits on most standard 24″ garage shelving
Fits under most standard height beds (less than 7″ tall)
Just enough storage for all essential DIY project tools
Quick and easy to build
About $40 in materials
I've been wanting to build a "loaner" workbench with all the tools for a bit, and just hadn't come up with the right design. We were putting the bean bag toss games away this fall and it hit me.  Why not build a workbench like the bean bag toss game, with fold out legs?  And what if we could use the space to hold and store the tools?
Folded flat, it is just big enough to hold all the essential tools for most DIY projects.  It can be carried (although most likely a two person task) outside on a balcony, put in the car, or up or down stairs.
Its compact enough to fit under most beds –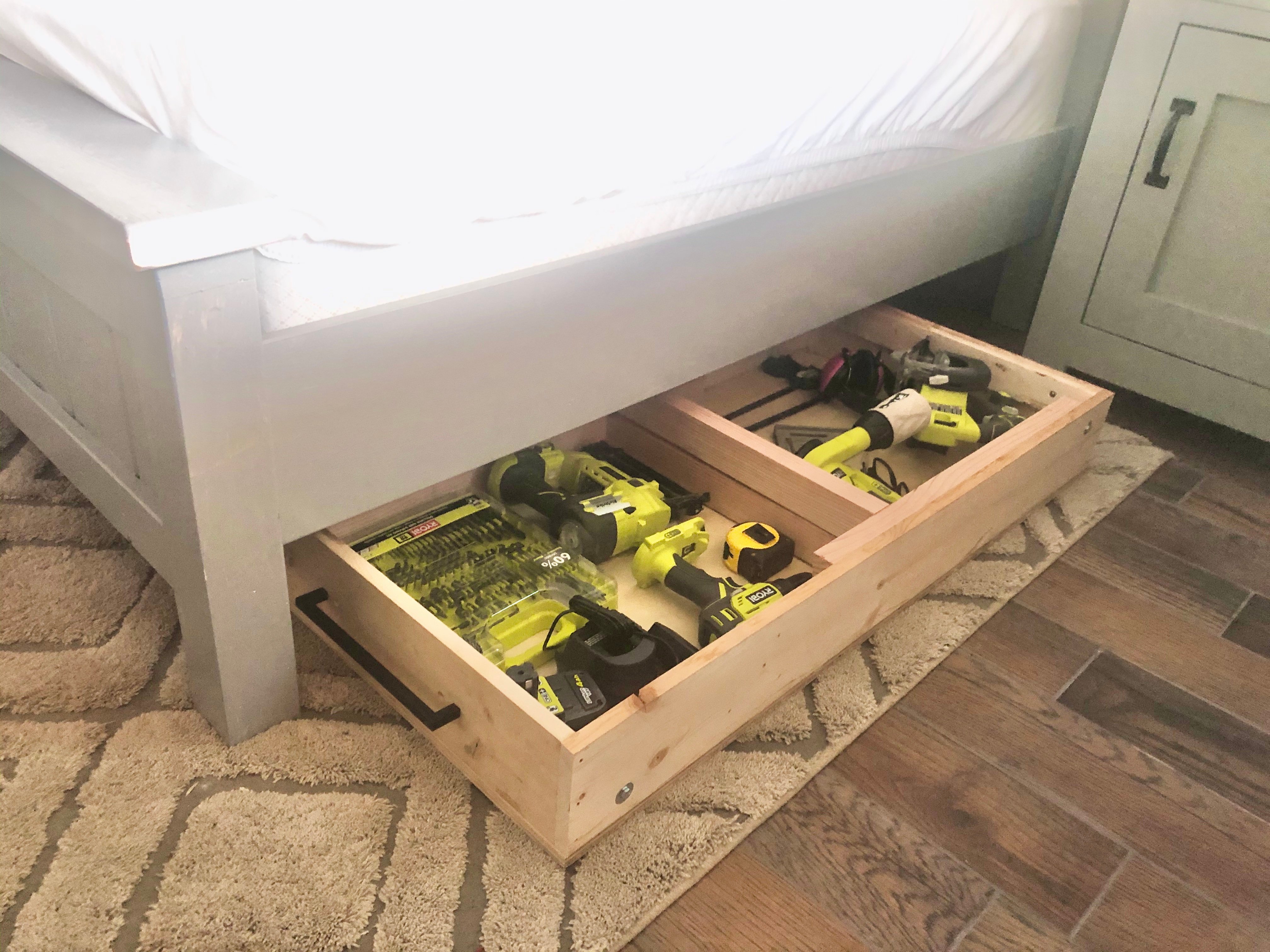 Pull the tools out and flip it over, and it becomes a great workbench.
It is VERY sturdy and with the 2x legs, will hold up for a long time.
There are not hinges – the legs simply rotate on a bolt and hold in place at an angle.
Video Tutorial
This project is very quick and easy to build.  We filmed the process so you can watch and see!
What Tools do I Need?
For this project, you only need a drill and a saw (and some hand tools like tape measure and safety glasses).  You can build alot of projects with just these tools.  But I wanted to give you the essential list, the basics that you can use to build almost any project out there.
Cordless Drill
Circular Saw (recommend the 5-1/2″ diameter blade size)
18 Gauge Brad Nailer
Random Orbital Sander
Tape Measure
Speed Square
Safety Glasses
Speed Square
Pencil