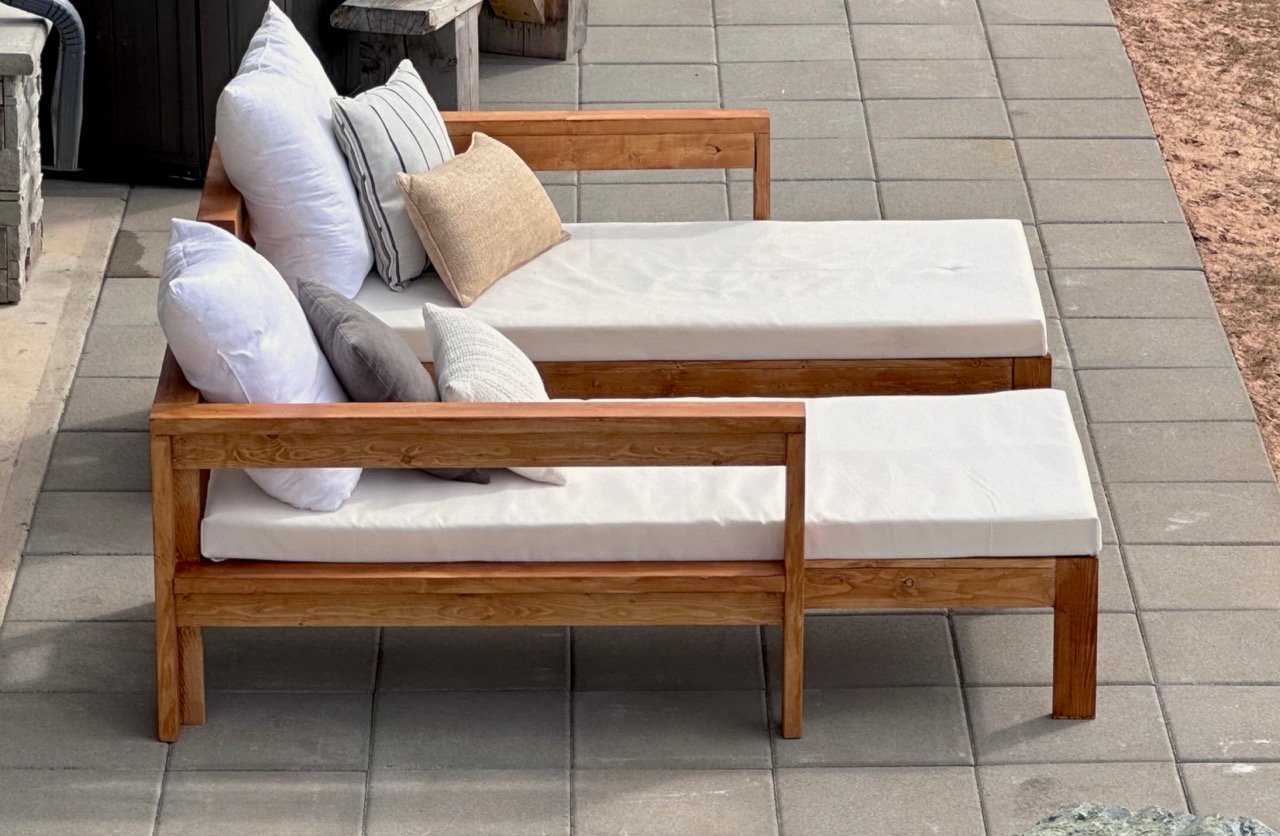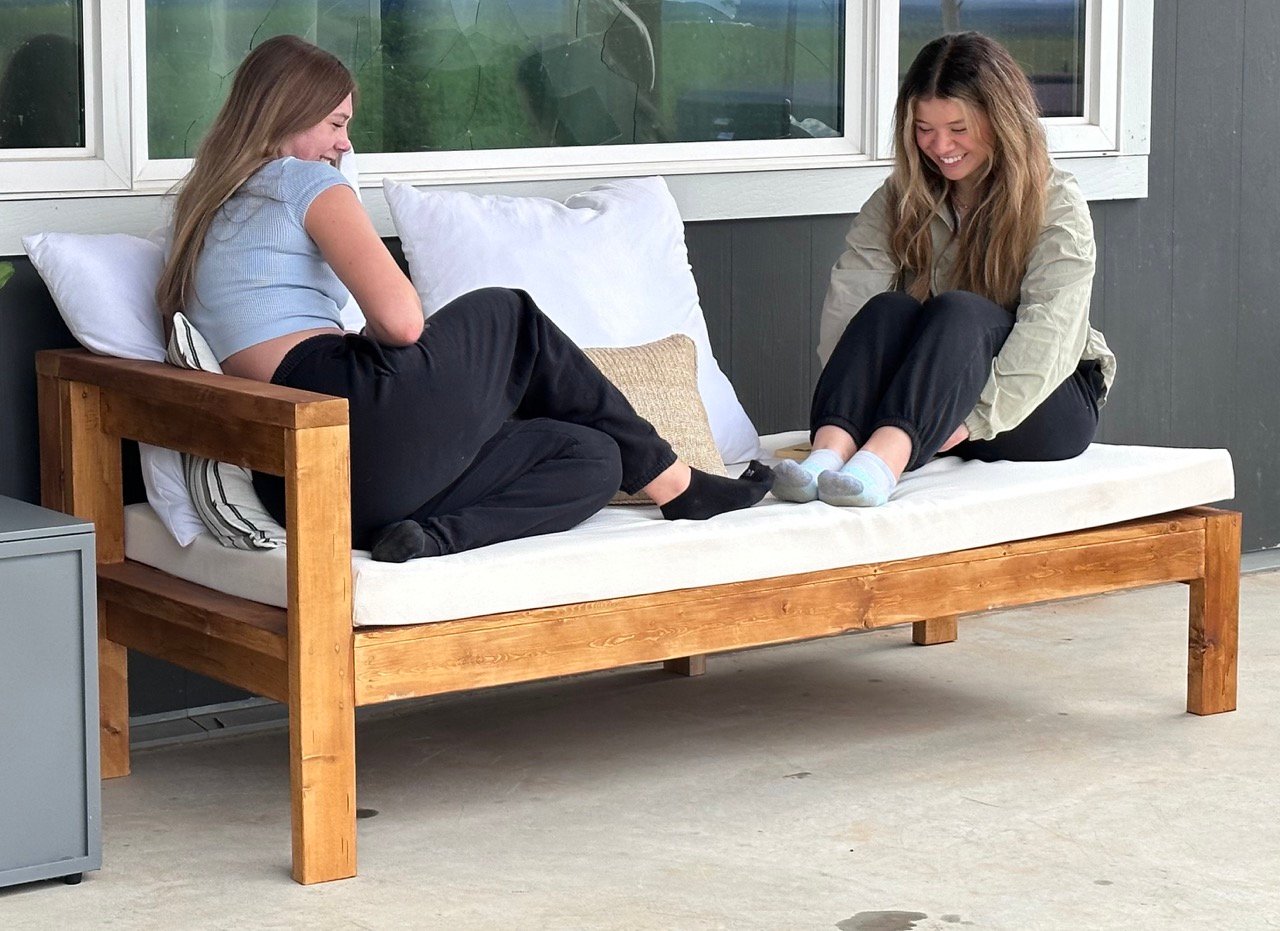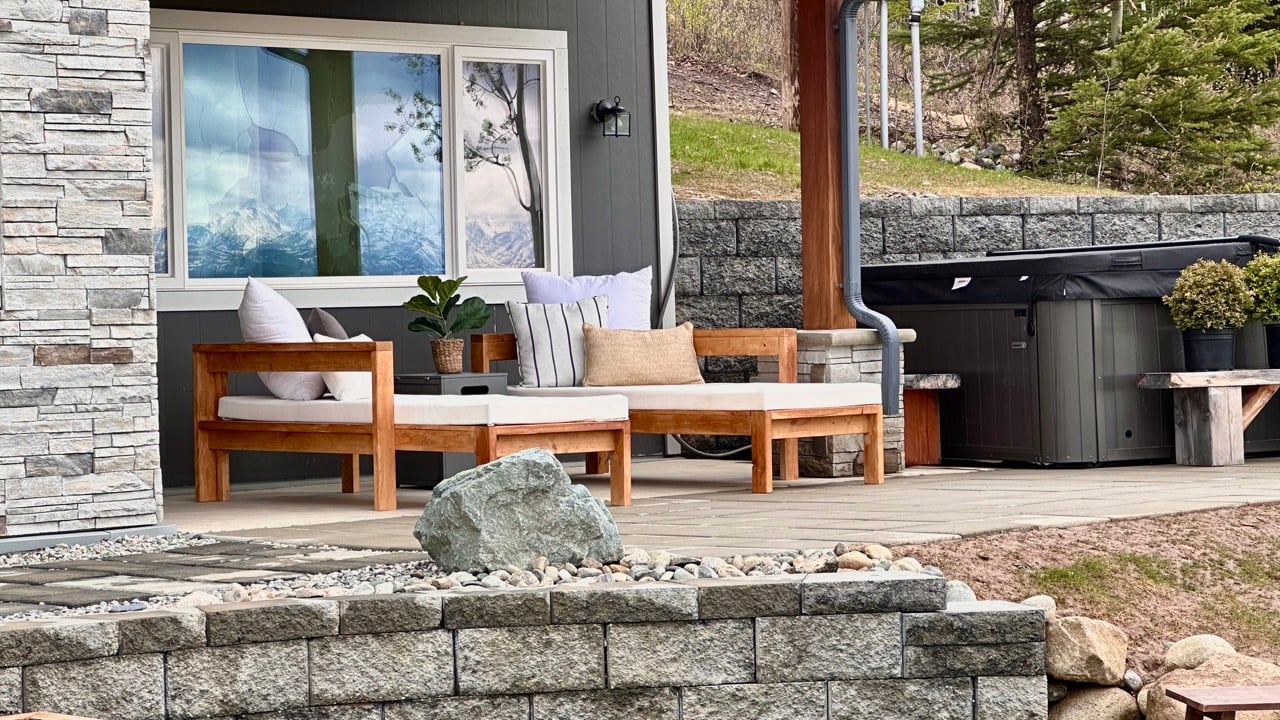 Why We Love this Outdoor Chaise Lounge
I had originally built this project for a rental property, but it turned out so well, we just had to keep it for ourselves.  It's such a versatile piece.  Here's why we love it:
NO moving parts, so it's less things to break and maintain.  Instead of a reclining back, the base is long enough to be a bed on it's own.  Simply arrange pillows for the perfect back support.
Versatile – can work as an outdoor sofa or sectional too!
Easy to build
Simple style works with most other pieces
Can be stained or painted a variety of colors
WATCH: Build Video for these Outdoor Chaise Lounges
What Did You Use for a Cushion?
For the cushion I used a foam cot mattress measuring 30″ x 75″ – I bought mine at Fred Meyer (a Kroger Chain store similar to Walmart).  The foam should drain water through.  There are lots of options on Amazon to buy a "cot sized mattress".  
I then added a layer of outdoor batting to the top, and sewed a cushion cover.  Here is a good tutorial for sewing a box cushion cover (I am not an expert a sewing, so will defer you to someone who is).
Other Options for Cushions
This plan is easily adaptable to work with different sized cushions.  Here's a few options to consider:
Twin Mattress – foam, waterproof or use a waterproof cover.  Can use a twin daybed cover or twin fitted sheet – spray with waterproofing fabric spray to protect it (Scotchguard).  
Three Deep Seat Cushions – Deep seat cushions are a great choice and will already come covered.  Some may even come with pillows.  Measure the size of the cushions and adjust the cuts accordingly.
Chaise Lounge Cushion – yep, you can use this.  But do consider since there is no reclining back, there may be an oddly placed break in the cushion.  
What Type of Wood To Use for Outdoor Furniture?
The best option for wood is douglas fir 2×4 material.  I even prefer this to cedar, since it is a more dense wood and I see it holding up better over time when finished appropriately.
For the slats, cedar is preferred – yes, you can use cedar fence pickets but do sand well.
You can also use cedar or pine, but do keep up with finishing the wood, recoating as directed on the stain can.
What Type of Finish Should I Use for Outdoor Furniture?
Choose an exterior stain used for decks, siding and fences.  For a "paint" look, use an opaque stain in your desired color.  Avoid film forming paints or clear poly coats that may crack and peel when the wood expands and contracts with moisture.  
Exterior stains are also easy to recoat to keep your projects looking beautiful and protected for years to come.
Free Plans to Build Your Own Chaise Lounge
Here's the free plans to build your own chaise lounge.  Send in a photo when you are done, we can't wait to see how your project turns out!